How do I use the search engine?
---
You can either use the main search bar at the top of the web page and then filter the results by type using the quick filters, or you can go through the main tabs and search for it by using the quick filters below the main tabs or the advance filters on the side of the page. Building names, listings, and company names are also interlinked with each other and clicking on them will take you to that data point.
In order to get average price/ sqft, do I need to include land and villas both in the case of villas?
---
Villa transactions are registered as land and take into account only the land size. It is upto the client how he wants to use the information provided.
What are the Official Names and Commonly Used Names of areas in Dubai?
---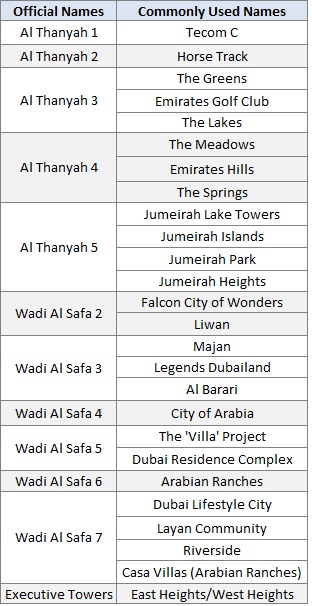 How do I navigate REIDIN.com?
---
REIDIN.com is built on a tabular structure where all the information is filtered through headline tabs (data, deals, projects, news etc) and is also searchable using keywords. Each database is filtered through quick filters for the most common options and advance filters on the left side of the page. Data is also linked appropriately allowing efficient sideways navigation, listings and deals are linked to a specific property profile, developer profiles are linked to the project, land sales and news articles are linked to the developer and so on.
What needs to be done if the data download fails and a pop up message box appears that says "This file cannot be opened because of errors"
---
This is simply because the settings on REIDIN (digit grouping: comma vs dot for numbers) are not in line with the settings in excel.

To make them the same simply go to the settings page and change them accordingly as shown in the below screenshot. After the settings have been saved,  download can be done successfully.